The Human Rights Institute 1L Advocates Program, founded in 2017, is a specially curated program of activities, training, and mentorship for first-year law students interested in human rights. The program is run by the Human Rights Institute (HRI) and the student-led group Rightslink. 
Students selected to be Advocates in the program will receive: 
Human rights mentoring and community: Advocates receive individualized and group mentorship from practicing human rights advocates, and Columbia Law faculty, staff, graduates, and current students. In joining a community of advocates, 1LAP Advocates are supported to develop their human rights interests and skills. 
Specialized human rights seminars: Advocates attend seminars that overview key issues in human rights, given by leading human rights advocates at HRI and NGOs. There are approximately six seminars throughout the year, ranging from introductory overviews of human rights law to critiques of the human rights field today.
Human rights work and experience: Advocates have the opportunity to work on a variety of social justice cases, including advocacy work undertaken by HRI and the Columbia Law School Human Rights Clinic, as well as NGOs around the world. All Advocates are required to undertake public interest work during the year as part of the 1LAP program.
Visits to human rights organizations in New York: Advocates have the opportunity to visit NGOs in New York City, meet with staff, and learn about human rights careers.
As of 2021, 100 students have completed the program. The 1LAP program supports students to launch their studies and careers in human rights. Alumni have done summer internships around the world at social justice and human rights local, national, and international NGOs, the United Nations, and local and national government. Many have also participated in the Human Rights Clinic, externships, or conducted research and advocacy with HRI or with CLS international law faculty. Following law school graduation, 1LAP alumni have been awarded fellowships to do human rights work, and many are working with NGOs, government, judges and other public interest work.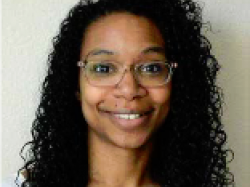 "The HRI 1L Advocates Program is a valuable opportunity to work immediately on the human issues and values that brought me to law school." —Tiffani Burgess '20 
The program begins in the fall with an orientation event for the accepted 1L Advocates, continues throughout the academic year with seminars on human rights and opportunities to engage in real human rights cases and advocacy and in the broader human rights community, and concludes in the spring with a celebratory dinner in April. The 1L curriculum is a demanding experience, and the 1L Advocates program is designed with this reality in mind.
The HRI 1L Advocates Program is for students with an interest in and commitment to human rights. Participation is by competitive application in the summer before 1L begins. Prior experience in human rights is not a prerequisite for admission. Selection for the 1LAP Program is separate from other programs or fellowships at Columbia, such as the SJI Public Interest/Public Service Fellows (PI/PS) Program, and students can apply for and participate in multiple programs.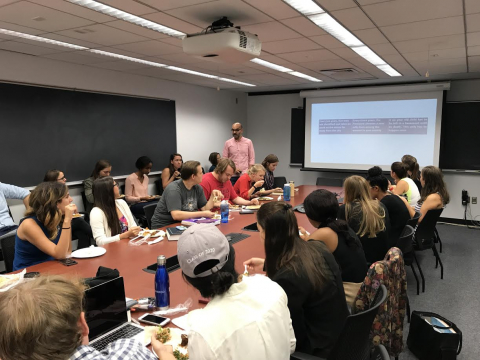 How to apply
The application will be open to incoming 1L students in May 2023.
Contact
If you have any questions about the 1L Advocates Program, please write to us at [email protected].
FAQs
Who is eligible to apply? All incoming first-year J.D. students with an interest in human rights are encouraged to apply. If you become enrolled at CLS after the June 25 application deadline, please reach out to HRI directly. 
-Can I apply to this program and other Columbia programs? Yes! You can apply to, and participate in, both the 1L Advocates Program and other initiatives, including the SJI Public Interest/Public Service Fellows Program.  Applications are reviewed separately and admission into one program does not impact another.  
What type of seminars are offered as part of the Program? In addition to fall orientation, and social events during the year, 1L Advocates will participate in seminars tailored to cover timely topics in the human rights field. Recent seminars, taught by leading human rights advocates, have covered issues such as: human rights law, human rights strategies and tactics, critiques of human rights, human rights career pathways, and building wellbeing and resilience as a human rights advocate.  
What kind of human rights work can I take on during the 1L year? 1L Advocates are expected to dedicate a portion of their time during 1L to a human rights or social justice related activity. This commitment can take myriad forms, such as being a part of a social justice–oriented student organization, taking on a social justice position within a student organization, volunteering with an NGO, conducting human rights work through the Human Rights Institute and Clinic, or doing a caravan. Student managers work with Advocates to set realistic goals for their social justice commitment and have regular check-ins throughout the year to discuss the Advocate's progress. 
Do I need to have experience in human rights to be able to apply? No. Admission is based on demonstrated interest in and commitment to human rights. The application is designed for you to share what motivates you to engage in human rights and how the 1L Advocates Program fits in to your goals and aspirations for your career.
Will you review my law school application in conjunction with the 1LAP application when considering my admission? No. Admission is based on your 1LAP application only. Your application to the law school will not reviewed. 
News
Year-long Seminar Series Provides a Foundation in Human Rights for 2018–2019 HRI 1L Advocates Interested in Pursuing Careers in Human Rights.

The HRI 1L Advocates Program Presents: 2017 Fall Seminar Series: Introduction to the Human Rights Field.

Columbia Law School Human Rights Institute, Rightslink, and Social Justice Initiatives Launch Unparalleled New Human Rights Initiative for First Year Students.